Attention: Your browser is not supported.
Attention: Your browser is outdated, so this website may not display properly.
4202T Console
4202T Console
The Altus® 4202T freestanding console for roller brake testers and test lanes up to 40 kN. It is designed for operators who prefer a monitor read-out .
Several combinations of equipment, peripherals and accessories can be connected to create a test lane for heavy vehicles exactly adapted to the needs and possibilities in the workshop.
---
Options supplied as standard!
---
The 4202T is standard supplied with a PC with Windows® and LaneComm®-Atlas test lane software, widescreen PC monitor, keyboard, mouse and infra-red remote control hand set. The 4202T is designed as a working desk for the operater to enter customer data, analise test results, make a print out or transfer data.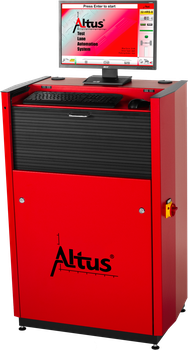 In short

For repairs.
For inspections.
As a sales tool.
Easy to operate.
Easy to understand.
Fast, reliable and convincing.
LaneComm®-Atlas test lane software

Manual- and automatic test program.
PC network (LAN) capabilities.
Multi-lane facility.
Vehicle testing queue.
Remote data transmission for data exchange or integration into specific country related networks.
Extensive database for storage of vehicle and customer data, legal limits and test results.
Infra red remote control for operation of all functions of the roller brake test lane.
4x4 reversible roller kit included.
4202T

Dimensions

83 x 50 x 122 cm